This post contains affiliate links. For more information, read my disclaimer here.
The Rental Kitchen Renovation is Finally here!
I'm so happy that the day is here and I can finally show off our rental kitchen renovation. I'm calling it a renovation as we did a kitchen makeover a year ago. This makeover was bigger and grander, so it deserves the name of renovation. Of course with us living in a rental, there was no knocking of walls down. However, there was a fair bit of building and me flexing my carpentry skills.
This rental kitchen renovation was inspired by my parents gifting us a new fridge freezer. I go into it more (along with the work that we did to the room) in my kitchen renovation vlog, but essentially with them doing up their own kitchen, they had appliances to give away. As we had a tiny fridge that just wasn't practical, it was the perfect opportunity to make this space work smartly and create our dream kitchen with the room and layout that we had.
There were many, many elements that went into this makeover, but there were a couple of things that have truly made this space a dream…
FRIDGE FREEZER BUILT-IN.
With us getting a new fridge freezer, there was only one place it could go. This presented a problem. As it wiped out a large chunk of our storage and counter space, we had to make the tiny space available practical. The other issues were this kitchen only has two double plug sockets. I know, it's ridiculous. With the number of small kitchen appliances that we have, we had to ensure this other socket was available to use.
Enter the fridge freezer built-in. I had been inspired by built-ins that I have seen on Pinterest and I knew I wanted to do something similar in this space. I did all this carpentry work by hand, with a little bit of help from my dad at the beginning. The pride I felt when I finally finished it is something that I will never forget. I know that I'm good at DIY, but to see the completed product and it all decorated, I feel incredibly powerful and girl boss!
With the built-ins, I wanted a space for our Nespresso coffee machine so that we were utilising that plug socket. The rest of the cubby holes, I wanted to utilise with a breakfast station for my husband, and it has some of my favourite cookbooks on display.
This corner is one of my favourites in this room. It's such a practical stylish moment and I'm so glad I put the effort into creating this space.
CABINET PAINT & HARDWARE.
With the previous white paint that we used starting to peel and get grotty, it was time to repaint the space. We took the time to strip everything down and paint it a new fabulous colour. I really wanted to bring some warmth into the room and was very much inspired by Studio McGee. With all this in mind, I went for Good Intentions by Coat Paint. It's a pale taupe and it suits this space perfectly. I love it across the cabinets and uppers, I'm just in love with the colour!
Along with the colour, it was time to also update the cabinetry hardware. I decided to continue to warm up the room by adding some brass accents. I went for these fabulous knurled knobs by Dowsing & Reynolds, along with their cup pulls in brass also. The luxe and the chicness that these handles and knobs bring to the room is just a dream. I'm so glad I went for brass. I was so worried that it would class with our chrome sink, but honestly, I hardly notice it.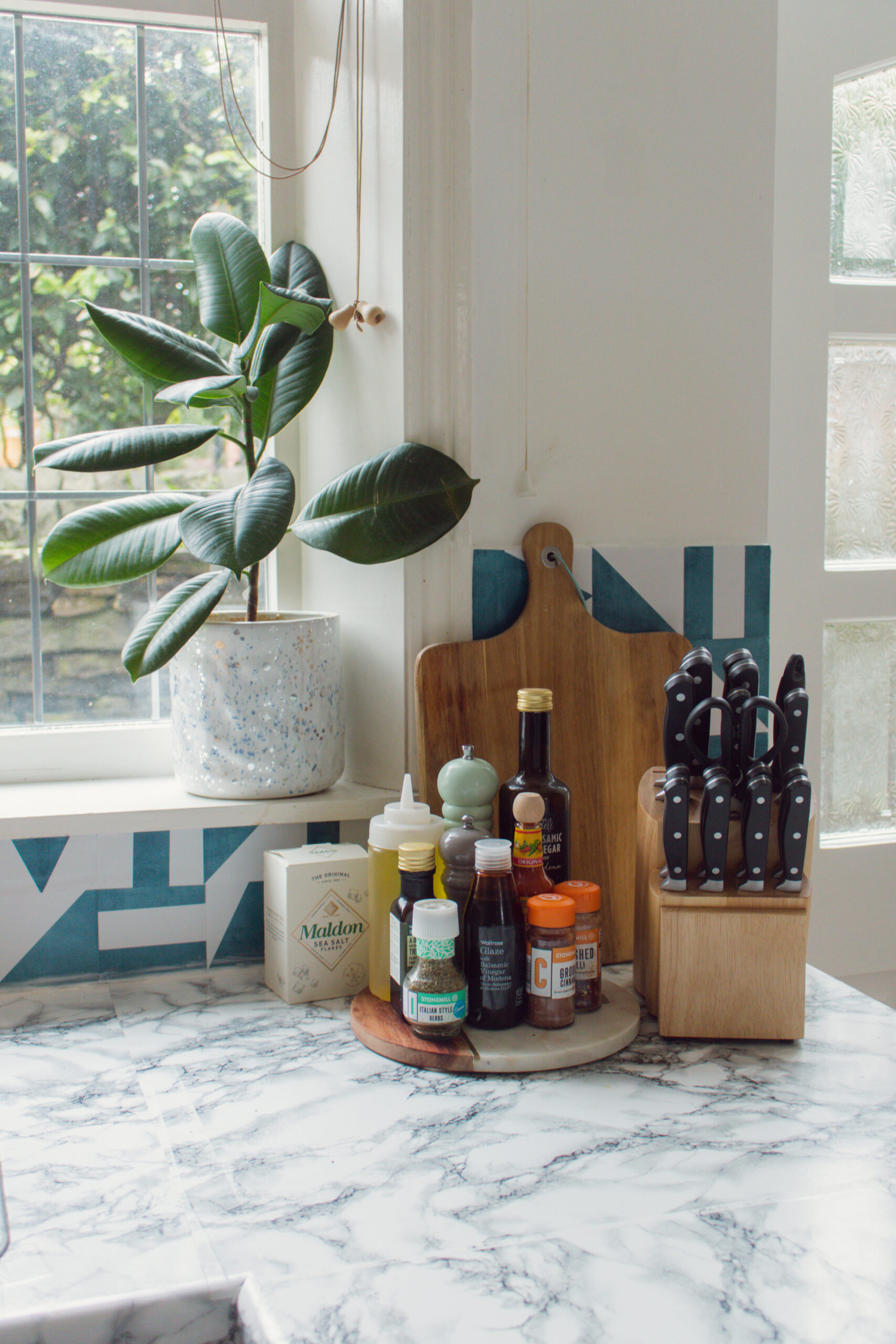 BOARD & BATTEN WALL.
One of my main concerns in the rental kitchen was this long bare wall that I had no idea what to do with it. After a little search on Pinterest, I finally found the answer. I decided to give a hand at board and batten and I'm so glad I took the plunge. It's made the room feel bigger, define the wall and again, brought some warmth to the room. To complete it, I painted it all in the same paint as the cabinets and finished it off with this bamboo wall mirror from La Redoute.
This DIY was so easy to do and I promise you I'll have a tutorial coming your way very soon. I truly believe that anyone can do this and if you need a wall that's in desperate need of an update, this is the DIY for you.
PEEL & STICK TILES.
Finally, the major thing that needed a makeover was our tile splashback. I know many of you love the green tiles, but personally, it wasn't for me. Since our last makeover, I've been desperate to change them up. Baring this in mind, when I discovered these tile stickers from Home Art Stickers, I was hooked. They have made such a difference to the room and brought some pattern and interest to the kitchen. They were also so easy to install and are 100% renter-friendly. Again, I have a tutorial on how to install them coming very soon. If you are in a rental, you have to apply them to your own kitchen. They will make the world of difference and are so easy to do.
I hope you love our rental kitchen renovation as much as I do. I'm so happy with the results and I cannot wait to spend so much time in this room over the next couple of months.
SHOP MY HOME.