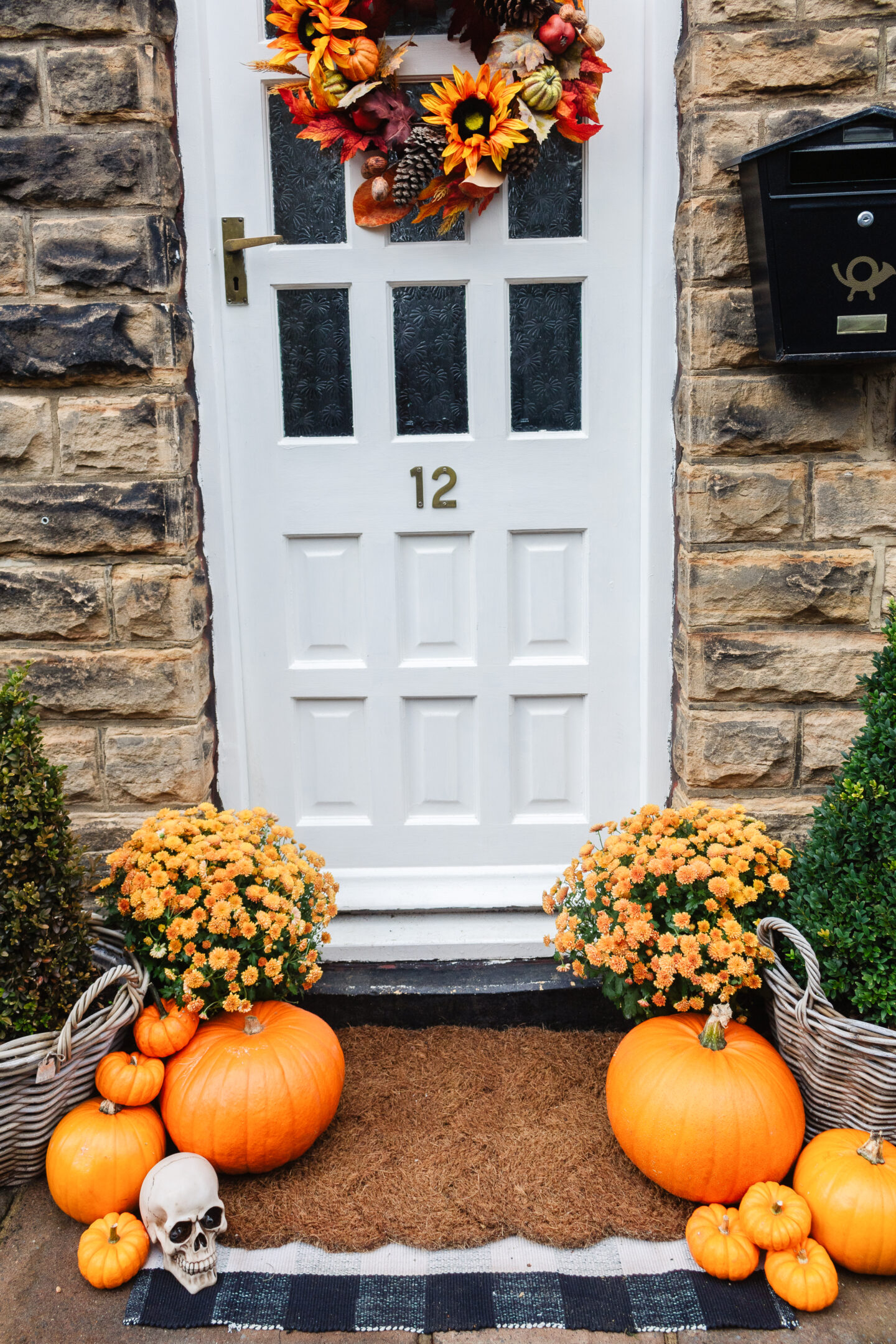 The Beginning of My Seasonal Decorating…
I love decorating for Fall and it always begins with my Autumn porch styling. It's something that I started a year or two ago, and have loved doing ever since. It's always a delight to my neighbours and it sets off my creative sparks for the upcoming months.
Each year I go bigger and better with my Autumn porch styling, and this year was no exception. Had I been allowed, I would have got more pumpkins, but I wanted to make sure I had enough of the decorating budget to cover Christmas which I always go above and beyond for. That didn't stop me from making a moment with our kitchen porch…
---
Shop Autumn Wreaths.
The Details in My Autumn Porch Styling.
It all starts with my buffalo check rug and my woven doormat on top of it. This year, I wanted to incorporate some Chrysanthemums. Now, again I could have gone mad with getting so many of them, but I decided these two large ones are perfect.
That only left the pumpkins. I could have gone with the entire pumpkin patch, but I settled for two large ones, two small ones and a couple of munchkins. I really wanted to keep the warmth of Autumn and it works so well with the Yorkshire stone.
One addition was this little skull decor that I picked up from Homesense. It was hardly anything, but it adds some spooky aspect to the decor. Then, the finishing touch is our trusted wreath. It completes the look perfectly. I'm so happy with this moment. I hope next year that I'll be able to do something with our front door. It needs a makeover, so I'll plan to get it done next summer and go from there.
The next bit in my home is to get on decorating the rest of the home. I've started with a few pieces here and there, but the main thing to tackle is the fireplace, which I'll be showing off next week. I'm so excited to be living in this cosiness for a couple of weeks before the sparkle of the next holiday.
---