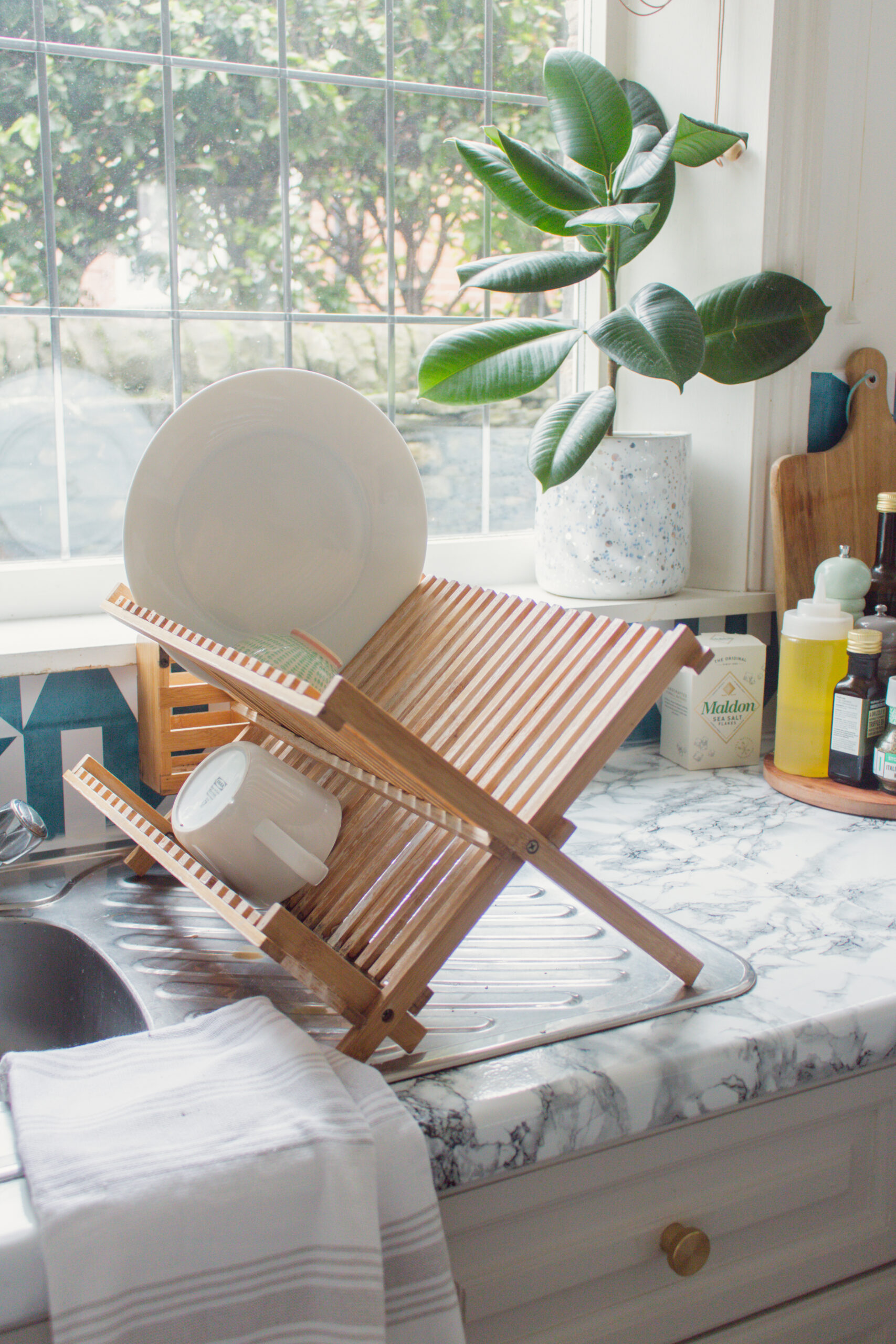 This post contains affiliate links. For more information, read my disclaimer here.
Elevating Your Everyday Life…
If there's one thing I've learnt through my interior design journey, it's that investing in chic alternatives to practical items can make such a difference to your room. Those little things that completely change up a space. It's the little touches, those items that you use every single day. If they look and feel fabulous to use, then you know your day is going to be simply the best.
I started investing in these practical items over the last couple of years, slowly building up to the collection I have. Mainly, it's been the kitchen that I've been focusing on, but I'm soon to move to other areas of the house very shortly. If you are looking to update your kitchen with some fabulous new pieces, here are my top suggestions for practical items that you can buy chic alternatives…
DISH DRYING RACKS.
One of the best practical items you can begin investing in. If you are like us and do not have a dishwasher, then a dish drying rack is your only option. Now, most of them look horrible. However, if you're willing to hunt for one, you can find some great chic alternatives. To tie in the warmer, neutral tones of my kitchen, I love this bamboo dry rack as an option. It's lovely, eco friendly and the perfect alternative.
TOASTERS & KETTLES.
The ultimate practical item that is always in need of a chic makeover. Yes, kettles and toasters need to be practical, but they can also look cute. Personally, for me, you cannot go wrong with investing in a Smeg Kettle and Toaster. Not only are the high performers, but they also look amazing on your countertops. I love having them displayed out on my kitchen and it's a joy to use them when it comes to making a cuppa first thing in the morning.
UTENSIL HOLDERS.
Finally, the humble utensil holder. Please, whatever you do, do not use the pot that your utensils came in. Instead, invest in something fabulous. Pretty much anything can be used as a utensil holder, a fabulous stone jug, a wooden vase. Personally, I'm in love with this stone utensil holder from Le Creuset. It's sturdy, classic and timeless. Something that is going to live in my home for years to come.
SHOP MY KITCHEN.